Site and development news straight from the Camel Farm.
September 24, 2020 at 8:44 AM.
Google has reviewed and published the latest version of The Camelizer for Chrome, our price tracking browser extension. This update increases the size of the Camelizer window, price history chart, and all fonts, as well as providing a slightly more modern looking interface. Chrome will, by default, auto-update your extensions, so you should have this update in the next few hours if you don't already.
We will also be launching this new version of the extension for Edge, Firefox, Opera, and Safari. Coming soon!
Note: This was initially launched as version 3.0.0, but a bug was found and we have launched 3.0.1 with a fix. If you are getting stuck on the "Loading" screen, make sure you update your browser extensions to get the latest version. Sorry about that.
Please send us any feedback you have.
---
Update
Versions 3.0.2 and 3.0.3 also went out today, including performance improvements and bug fixes.
Version 3.0.4 will be out soon, and will restrict extension access to the current tab. This was a configuration mistake on our part; The Camelizer has only ever accessed the current tab upon activation, and has never accessed your browsing history. This should reduce the number of scary warnings after install or update.
Version 3.0.5 removes the "cookies" permission as well. Our goal is to request the absolute minimum permissions required to allow the extension to operate.
---
March 25, 2020 at 10:27 AM.
This closure was temporary and ended in May, 2020.
On March 23, 2020, I had a conversation with Amazon EU where they said they were asking all affiliates to stop sending traffic to their sites during the ongoing COVID-19 crisis. This is due to most items being out of stock, and their desire to focus on getting the necessities to people who need them.
We believe this logic. It doesn't help anyone except the toilet paper hoarders if all of the deals blogs of the world notify people when inventory is back and those few tech savvy people end up with all the supply. Everyone needs access to necessities, not just those who are savvy enough to know how to monitor inventory.
We have also seen proof that almost everything is out of stock in places like Spain and Italy: our sites in those countries appeared broken for much of the last week, and we couldn't find the bug. It turns out that everything was simply out of stock, so we weren't discovering any price drops anyway; we were just adding load to Amazon's systems for very little gain.
Everyone is worried about price gouging. But the only price gouging we've seen is from third party merchants, not Amazon itself, and they have promised to do more to prevent this behavior. One way they are doing so is to limit third party shipments to their warehouses. No third party inventory means no opportunity for third party price gouging.
All that being said, we are working on a new product search engine which will allow users to look at our existing data. Our current search engine is based on Amazon's API, which we cannot use, so it is being replaced. It will not have new prices being added during this crisis, but at least the existing data will be available. We hope to have this online soon, but it is not a small task.
Thank you for your continued support. Stay safe out there.
---
June 27, 2019 at 11:30 AM.
It has been about 1.5 years in the making, but we've finally updated the site to be friendly to all screen sizes. We will be writing a larger blog entry about it in the near future, but. for now, please report any bugs to support@www.jshjjx.com.cn. Thank you.
We hear you. You want the new design to be more dense / efficient in utilizing screen space, and we are working on it. Might even have an update ready today. Thanks for your patience.
---
June 1, 2018 at 7:27 PM.
We are finally able to offer Amazon Australia price tracking! View the new country sub-site here: https://au.www.jshjjx.com.cn/.
---
April 17, 2018 at 10:12 AM.
We've long supported Smile in the US. Smile is Amazon's optional program to direct a small portion of your purchase to a charity of your choice. Now we've added support for UK Smile as well. Just visit your account settings page and set Smile to Yes to automatically be directed to Smile URLs when you click camelcamelcamel buy links.
---
January 26, 2018 at 1:11 PM.
We have fixed the chart issues. Got a bit hairy at the datacenter but we replaced a server and everything appears to work.
Thank you for your patience. Please let us know if you notice any other issues.
---
January 26, 2018 at 9:47 AM.
We are aware of the issues with charts not displaying today. The SSL certificate expired, and the server hosting it is failing, so we can't renew the certificate without fixing the server. I am now headed to our datacenter to wrangle these camels back into order.
Sorry for the lack of charts in the meantime!
P.S. -- Thanks to everyone who continues to support us with product purchases, donations, on patreon, and via our merch store. We truly appreciate it.
---
September 11, 2017 at 3:05 PM.
It's been a minute since our last update. Here's what we've been working on lately (and just launched.)
Updating Stale Products
We receive a fair amount of support emails regarding stale product data, and more than a few feature requests asking us to implement an "update this product" button. To reduce the strain on our tiny support team -- coincidentally, also the developers and everything-else-ers -- we have indeed added such a button, which you can read about here.
How does this reduce the volume of support emails? Our goal is to make this a self-serve situation, where users just click that button and the system updates the product. We will therefore no longer be responding to these emails. Sorry if that causes any inconvenience, but we believe this will make things easier for users and Camels alike.
Camel T-Shirts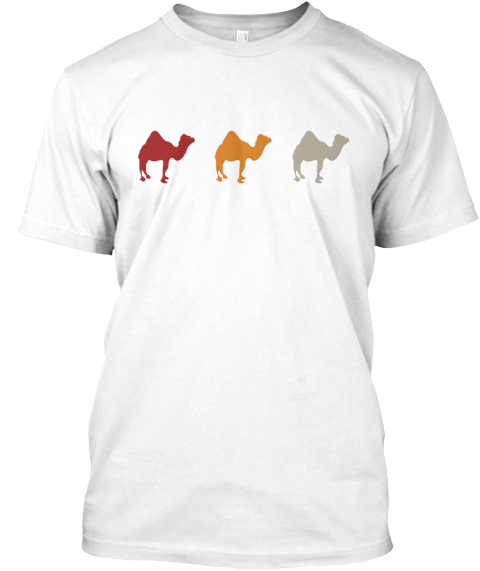 In our ongoing effort to pay our bills, we have launched a Camel merch store. This is to provide a donation path for those who would like a physical something in return, thus the higher-than-normal prices. Each purchase is the equivalent of an $8 donation.
We would also like to thank everyone on Paypal and Patreon who has chosen to support us. We know that donating to a site that is designed to help you save money can be a bit of a logical issue, and we appreciate you going the extra mile for us Camels.
Bug Fixes
We've also pushed some small bug fixes to the site. Most notably, the menu looks a bit better on mobile and in MS Edge.
---
July 15, 2017 at 4:09 PM.
Just a quick note to say sorry for the duplicate emails today. We had a server problem which caused our system to send new users a bunch of copies of the same email. Annoying you is the last thing we want to do! Sorry about that.
---
July 11, 2017 at 9:25 AM.
Due to the way Amazon provides data to us, most of the Prime Day deal prices will not appear in our site. This is similar to how we are unable to publish Lightning Deal prices.
Fortunately, our price history charts are still a great reference for ensuring you're getting a good deal! Thanks for considering us during your Prime Day shopping.
---
February 12, 2017 at 5:01 PM.
We received many bug reports regarding our browser extension, The Camelizer, this week; thus the weekend was spent preparing updates to resolve the issues we found. Camelizer v2.9.1 for Chrome should be making its way to you now via auto-update; the Firefox version is in Mozilla's review queue and should hopefully go live within a couple of days; and the Safari extension can be found here, and maybe even in the Safari extensions gallery eventually if Apple approves us.
Thank you to everyone who reported these issues, we appreciate your effort there. And we are sorry for the inconvenience! This new version should restore our extension to its former glory.
P.S. Shout out to @tapbot_paul for helping test the Safari build.
---
December 5, 2016 at 6:05 PM.
We have just released Camelizer v2.8.3 for Safari, which should make it work with Safari 10 and on Amazon.ca. Download it here! And please let us know if you experience any problems with it.
Happy holidays.
---
November 18, 2016 at 3:24 PM.
Amazon has become a target of scammers over the past few months and we want our users to be aware of the issue as we expect scammers to continue to operate through the holiday season. We've introduced some filters in the past 24 hours that are removing some of the scams from our price records, but it's impossible to remove all of them with the limited amount of information that we obtain about merchants from Amazon.
The scam is pretty straight forward. A 3rd party retailer posts an item for sale on Amazon at an especially low price. However, they ask in the offer description to contact them via email to complete the sale. Never contact merchants directly. This is where they scam you. Always complete your transaction on Amazon's website. But in this instance you don't want to complete the transaction at all because it is very likely a scam. If you see a scam like this report it to Amazon so that they remove it quickly.
Also be wary of 3rd party offers from new merchants with few or zero ratings. Quality merchants usually have hundreds if not thousands of ratings. We've seen a few instances of scammers that appear to be posing as new merchants as well.
If you want to be absolutely confident that you're not getting scammed stick to items that are fulfilled by Amazon. Those are usually marked as Prime on Amazon and therefore Amazon will handle the invoicing and shipping of the item.
This issue is affecting a relatively small number of items and we're sure Amazon is working to further limit the impact, but it's always wise to proceed with caution when that deal seems a little too good to be true.
Thanks for using camelcamelcamel this holiday season!
---
November 14, 2016 at 1:35 PM.
Recently, Amazon moved their wishlist URLs over to their "a.co" shortening service. This broke our wishlist importer, but today we are happy to announce support for this new URL format. Sorry for the inconvenience! Now is a great time to get your wishlists into our system, as holiday deals start to appear.
---
September 30, 2016 at 8:46 AM.
Wishlist updating is working again, and has been working for many weeks. Sorry for the lack of a blog post on the subject!
---
August 7, 2016 at 8:46 AM.
All wishlist importing and synchronization is broken at the moment, and will take some time to fix. We will let you know when it is working again. Sorry for the inconvenience, but it is just not a simple / quick fix this time.
We hope you are all having a great summer! (Or winter, for our rare Aussie users.)
---
July 26, 2016 at 5:46 PM.
There has recently arisen a scam by unscrupulous third party merchants on Amazon. As this scam impacts our users, we thought you would like to hear about it.
The idea is simple. The seller lists a product for much lower than other sellers, then says "please contact me before purchasing" in the description of their offer. This is a red flag. Every part of a transaction on Amazon needs to take place through Amazon, so that the communication can be reviewed for compliance with their terms of service. When you take a transaction offsite, you lose Amazon's protection and risk being scammed.
In this case, you contact the seller and they tell you to send them untraceable cash or cash replacements (ie, gift cards). And of course you end up with no product.
So the lesson here is, avoid all offers that request you contact the seller before purchasing, and absolutely do not complete any transactions offsite; don't checkout through Paypal, don't checkout through the merchant's own site...these things will likely cause you to lose Amazon's protection.
Stay safe out there! And please report all instances of this scam to Amazon directly; the more often they hear about it, the more quickly they will take action.
---
July 8, 2016 at 6:25 PM.
We launched a new feature today that many of you have been asking for for a long time. We're now alerting on some Prime eligible 3rd party prices. If you're tracking the Amazon price type for a product and we see that there is a 3rd party price that is Prime eligible and is priced lower than your desired price (and the Amazon offer is not already lower than your desired price), we'll alert you.
There is a caveat with 3rd party Prime alerting. We can't see all 3rd party Prime offers. We can only see the lowest price 3rd party offer and in many instances this is not a Prime offer. Prime offers may exist at a higher price level, but we can't see them. But we figured that alerting on a significant number of 3rd party Prime offers was better than zero. So keep an eye out for our new alerts and read more about how 3rd party Prime alerts work.
---
April 28, 2016 at 2:55 PM.
We have released version 2.8.2 of our browser extension, The Camelizer for all three browsers. This update should resolve the problems our users have been seeing in Europe where Amazon has implemented HTTPS for all pages on their sites and broken the extension. We have added support for secure pages, so everything should be back to normal.
Download The Camelizer v2.8.2 by selecting your browser: Chrome, Firefox, and Safari. (Chrome and Firefox should auto-update if you already have it installed.)
---
April 22, 2016 at 7:43 PM.
8 years ago, in April 2008 -- after a grueling 4 month development period -- we opened www.jshjjx.com.cn to the public. To celebrate this milestone, today we have launched a feature that has been requested as often as it has been back-burnered: our Amazon price history charts now display when products are out of stock!
Why the delay? Honestly, it never really seemed as important as other things on our ever-growing to-do list. But we were recently informed that it may be more important than we realized, so we set to work implementing it. And, after a few weeks of development, now it is time to launch it.
For our users, this is a fairly simple change: there are no new interface elements or options to learn. Whenever a product goes out of stock, it is now reflected in our charts as a horizontal dotted line. Here's an example chart that highlights the new feature:
Hopefully you find this late addition is useful! Please email us if you notice any problems with our charts. And thanks to all our users, new and old, for allowing us to work on a project we love for so many years. It is truly a privilege to do what we love, and to have such an appreciative and helpful group of users.
Here's hoping we make it to the decade mark!
---
April 17, 2016 at 10:30 PM.
It's done! We have successfully moved into our new (new) datacenter. We didn't lose a single piece of hardware during the transition, and it was a fairly quick install process. The drive, on the other hand, was a bit grueling to do twice in 24 hours, but worth it for a more stable Camel environment.
Thanks to everyone who uses our site for being so patient during these last few weeks of spotty uptime. Things should be better now (although we do expect to take things offline for maintenance in the near future). We also appreciated everyone on Twitter who wished us good luck in the move, it was great to check in with you from the road during fuel / leg stretching stops.
We are looking forward to a much more stable rest of the year. Thank you for supporting us.
---
April 15, 2016 at 10:18 AM.
Our datacenter has been very unreliable lately; partially their fault, partially their neighbors. Regardless, we can't live through any more outages, so we are moving our servers to a new facility this weekend.
Camel users should expect terrible service until Monday morning, pacific time. Terrible service means: site outages, lack of product updates / price alerts, broken browser extensions, etc.
Sorry for the inconvenience. Hopefully this is the last move (and major outage) we ever experience.
Please check either @camelfarmer or @camelcamelcamel for updates, as that is the easiest place for us to post them while we move.
---
February 1, 2016 at 2:33 PM.
We recently discovered that our Safari extension wasn't working on Amazon.ca! We very humbly request your forgiveness for this oversight, and have launched a new version to fix the problem.
Download it here: Camelizer v2.4.5 for Safari.
---
January 14, 2016 at 12:48 PM.
Amazon is increasingly using 3rd party retailers to deliver competitive pricing across more and more products. These 3rd party offers aren't always shown in the Buy Box on the Amazon product page so you might have to dig a little to find them on Amazon.com. To make that digging a little easier we've added a link to the offers page for products having more than one seller. The offers page may be where that extra-low price is hanging out that you don't immediately see in the Buy Box when you visit Amazon. Check out the offers support page for more details on finding additional offers on Amazon.
---
November 10, 2015 at 7:11 AM.
Here is the camelcamelcamel guide to 2015's key holiday shopping dates at Amazon.
Christmas
Christmas deals will be running from October 26th to December 13th, with Amazon offering delivery-by-Christmas up until around December 20th, depending on your location.
Black Friday & Cyber Monday
Black Friday has become a full week in recent years, and is happening from November 23rd to November 29th. This will be capped off by Cyber Monday on November 30th. In the past, there has been a lot of deal offerings coming out of Amazon, so be ready to scour their listings for the gems. Expect lots of items that make great gifts: toys for kids, electronics and video games, etc.
Boxing Day & New Year
For shoppers in (current and former) Commonwealth countries, there will be a Boxing Day sale running from December 21st to the 31st.
Finally, Amazon will be holding various New Year-related sales events during the first two weeks of January 2016. Look for products related to New Year Resolutions, like exercise equipment.
Stay Updated
RSS Feed